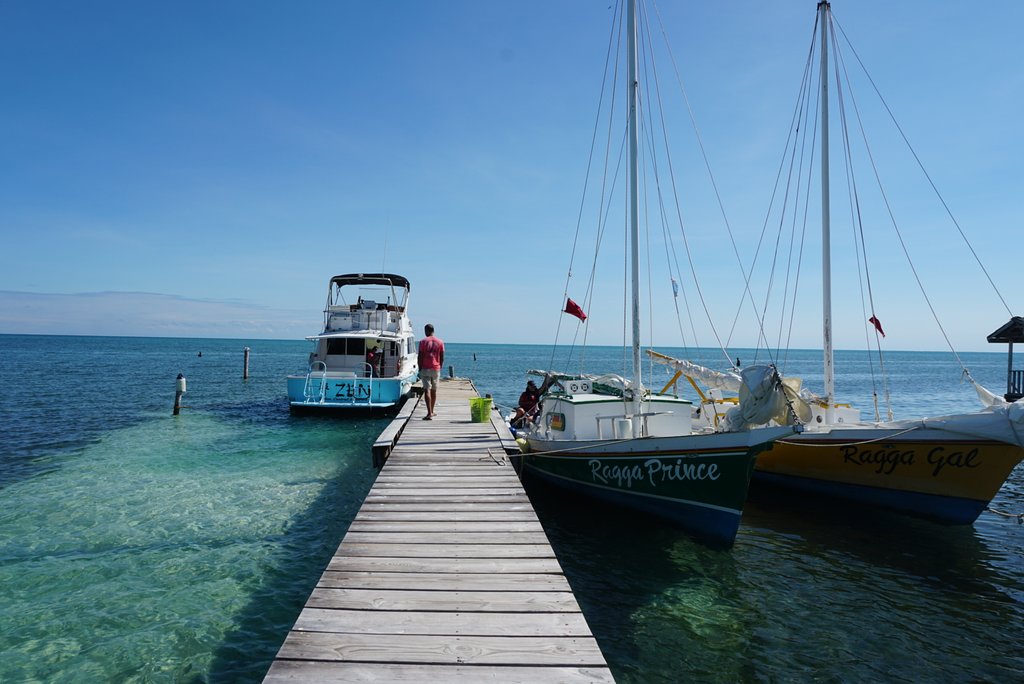 Caye Caulker is a small tropical island off the coast of Belize in the Caribbean Sea. This unique limestone coral island sits in front of the second largest Barrier Reef in the world, and is home to the best snorkeling, diving and fishing in Belize. It is divided by a narrow channel called the Split. The north is home to mangrove forest and diverse birdlife, and the south contains the settlement known as Caye Caulker Village.
This once sleepy fishing village became a "Backpackers" paradise, and recently tourists of all ages began to love its calm atmosphere and friendly people. 
Caye Caulker offers cool breeze, turquoise waters, fresh seafood and a pleasant Reggae vibe. There are no traffic signs on the island except for small signs that say "Go Slow". You can rent a golf cart, bicycle or simply walk since the village is small and the sandy streets are so inviting.
NO SHIRT. NO SHOES. NO PROBLEM. This sign is posted everywhere in Caye Caulker and everyone totally goes with the flow. Restaurants, bars, cafés, ATMs, gift shops and tour operators are all in one circle. The smell of fresh seafood cooking on the grill while walking in the village is so inviting, you can't refuse a taste. Stop in at Barrier Reef Sports Bar and Grill, Happy Lobster or Maggie's sunset kitchen for Great tasting Belizean food. Ice and Beans and Amor y café serves a variety of coffee drinks and dessert, while I and I Reggae Bar, Sip n Dip and The Lazy Lizard are popular places to hangout for a cool drink and good music.
Visit us on Front Street in Caye Caulker Village, learn more about our snorkeling and activities and book a full or half day tour. Whether your traveling with family, a small group or solo, we can arrange a fun-filled and memorable adventure.